Breast Cancer Costs Everyone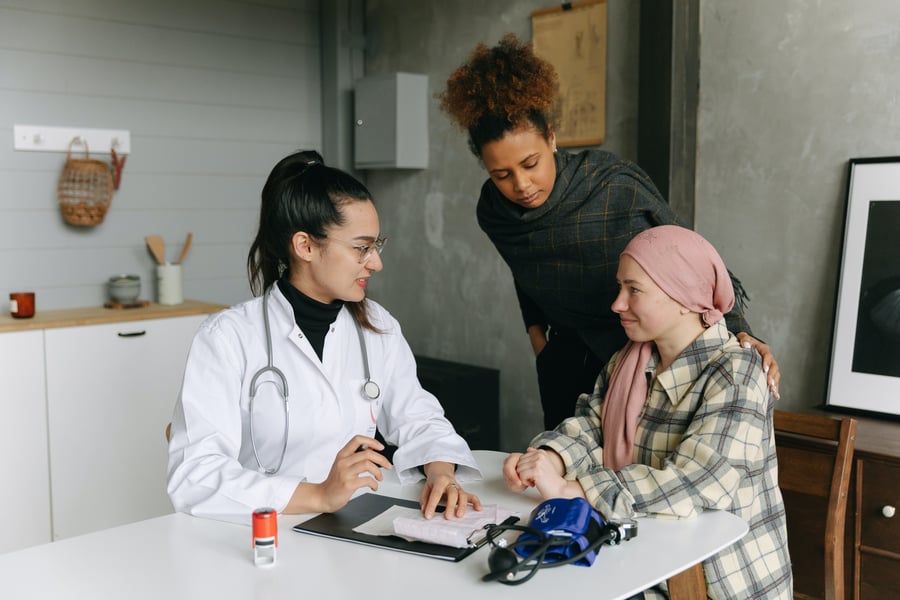 COVID-19 brought with it a reluctance to get routine, potentially lifesaving cancer screenings, however it is time to get back on track.
A 2021 survey conducted by the Prevent Cancer Foundation® reveals nearly half of U.S. women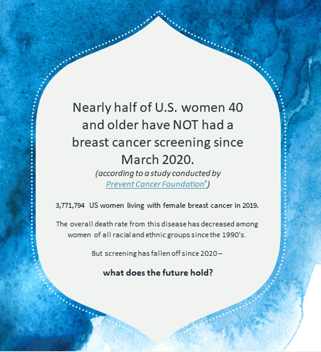 who are 40 and older had NOT had a breast cancer screening since March 2020. Now that vaccines and boosters are relatively easy to access and there are no longer restrictions in movement, 90% of the women surveyed say they have resumed normal activities like shopping and dining out. Alarmingly, less than half of women have visited the doctor.
Approximately

13% of women

will be diagnosed with breast cancer in their lifetime

Female breast cancer represents

15% of all new cancer cases

in the US in 2022.

The 5-year relative survival is 90.6%.
The rate of new cases has increased slightly since the late 1990's, however the death rate has significantly decreased. This is partly attributed to early detection that can be achieved through regular screenings and to advances in treatment.
Female breast cancer is the fourth leading cause of cancer death in the United States and the second most common cause of cancer deaths among adult women. The death rates vary considerably by age, racial, and ethnic group. The American Cancer Society recommends that with average risk:
Women ages 40 to 44 can choose to start breast cancer screening with annual mammograms

Women aged 45 to 54 should get annual mammograms.

Women 55 and older should switch to mammograms every 2 years or can continue yearly screening.
All women should be made aware of the benefits of breast cancer screening. Employers should also be mindful of the advantages of their employee population's adherence to preventative screening guidelines.
Breast Cancer costs employers: here are some facts to consider
A 2020 study estimated productivity costs due to metastatic breast cancer using publicly available data. In the adjusted analysis of work and home productivity days lost, women ages 18 – 64 who were within 2 years of their breast cancer diagnosis lost from 6 to 10 times the number of days compared with similar women without a history of breast cancer. Women ages 18 – 64 lose an average of 31.4 lost workdays and 26 lost home productivity days. In 2022, 287,850 new cases of invasive and 51,400 new cases of non-invasive breast cancer were reported among women in the U.S.
According to Northeast Business Group on Health (NEBGH), employers report a level of complexity in managing employees' cancer-related needs because of the related costs. In the United States, cancer treatment makes up 12% of employers' total medical costs. According to a report by John Hopkins this amounts to $125 billion spent on direct medical costs and another $139 billion in productivity losses and lost work time. Cancer caregivers often suffer stress-related illnesses which impacts their work productivity.
What can employers do to engage and support employees and managers?
It is important for employers to be prepared to support most employees who want or need to keep working throughout their treatment. Employers benefit from having their experiences employees remain and to be as productive as possible on the job. Treatments for breast cancer have continued to improve over time. They now have fewer side effects and are less impactful to the patients' quality of life. Here is how to employers can maximize productivity and minimize losses.
Open the lines of communication between the employee and leadership. It is important for managers to be aware that there are fluctuations in the aftereffects of treatments and the employee may or may not be able to work.
Educate and inform employees and managers of company policy regarding work flexibility and sick leave.
While only 34% of worksites that have WHPs, offer health education programs, health education is an important part of a comprehensive benefit plan. It is beneficial across all sectors, demographics, and health statuses. Education is integral to empower employees to take charge of their health. This can be sending email blasts, distributing brochures, monthly health focuses, classes, or one-on-one coaching. Include breast cancer education in that plan.
Managers need readily available and current information when they learn that they have an employee who is dealing with a cancer diagnosis or caring for someone with cancer.
There are helpful resources for employers and employees on the complex topic of cancer. You can begin here Breast Cancer Resources | LBBC and here Breast Cancer Foundation | Susan G. Komen®.
"An ounce of prevention is worth a pound of cure." -Benjamin Franklin
Finally, but most importantly, it is estimated that 42% of cancers can be prevented by managing risk factors. According to Johns Hopkins, routine screening help to pre-diagnose/prevent some cancers. In addition to healthy lifestyle choices such as eating right and staying physically active.
Promote appropriate cancer screenings!
Generally, one-time projects will not likely have a lasting effect on cancer screening rates in your organization. However, after countless delayed screenings during the pandemic, it may be highly beneficial to be intentional about promoting health and preventing breast cancer through an aggressive project.
Start here for more resources, and don't let it stop there. Develop a holistic approach beginning with open talks and encouraging prevention and early detection through screenings.
IBI Membership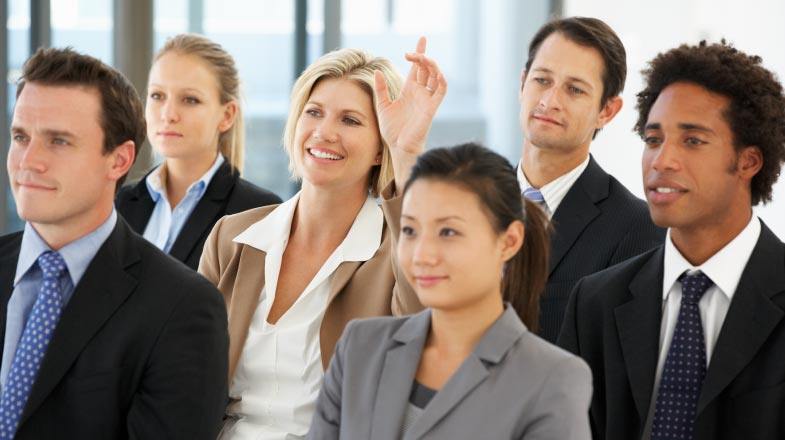 Get access to the latest tools and research on health and productivity.